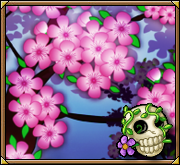 "Dexla's Cherry Blossoms" background, still available!
This is the last weekend of the May Mystery Promotion! Have you got your Mystery Box yet? This is your last chance this year to snag something Spring Green!
From now until May 17th at 3 PM PDT, every purchase of $9.95 or more will earn you a special present with a random Spring gift inside! The top prize this month is a Spring Green/Spring Green Parrot, but there's also a unique Spring Green-garbed White Elephant available, as well as some Spring Green furniture and clothing prizes. Not only that, but participating will also net you a special "Bloomin' Skull" trophy, as pictured here!
You can read the full promotion rules right over here, and you can get your Mystery Box right now from our Billing Center!
Posted by Hermes in Announcements | May 14, 2010 | | permalink