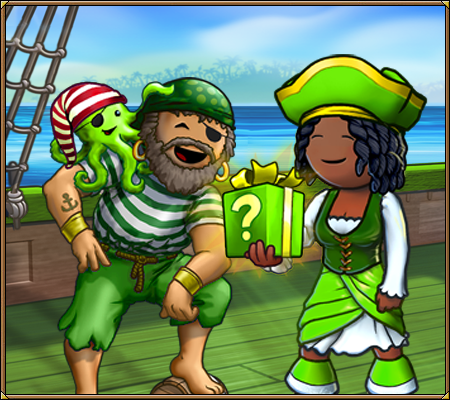 The waters of March bring with them a new Spring Green Mystery Box and a new familiar! Our lineup of familiars is being expanded with a seasoned cephalopod sporting a cozy sleeping cap and protective eyepatch, exclusively available in this mystery box!
From now until Monday, March 25th at 3 PM PST, you'll earn a free Spring Green Mystery Box for every $9.95 you spend on doubloons or every month of subscription time you purchase! Peel off the colorful wrapping of one of these mysterious green boxes and you could be rewarded with a new ship, clothing, furniture, chromas, or a new octopus familiar with sleeping cap and eyepatch--all featuring the seasonal color of Spring Green! Oh, and there's also a Seussian Spring Green Sheep pet that may or may not have escaped from a top-secret pirate cloning program.
These mysterious Spring gifts are only available through March 25th! For a full list of available prizes and other more detailed info, the official rules can be found here.
Posted by Mnemosyne in Announcements | Mar 15, 2013 | | permalink