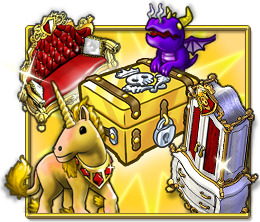 Piercing gales and tenacious ice barnacles make the life of a pirate particularly challenging this time of the year. Luckily, there's a new Gold Box to warm the hearts of all pirates until the springtime thaw.
December's Gold Box introduces Scarlet Shampoo, the only way to get the new Scarlet hair color! There's nothing like a head of blazing bright red hair to express just how warm that heart of yours is during these long winter nights! It also has the added bonus of making you look particularly fierce to all those scurvy blaggards out there! Trust us, you won't miss having to actually set your hair on fire in order to achieve the same results.
For those of you who absolutely need to have the intensity of a live flame as close to your head as possible, this Gold Box will also include a chance at three toasty new colors of Dragon Familiars: Red, Maroon, and Persimmon.
If fiery hair dye and dragons aren't enough to keep your spirits warmed, remember that December's seasonal color is Wine! Collect Wine Gold Box trinkets and Wine Chromas while they're available. Also be on the lookout for a new White Icy Unicorn and a king's ransom of gilded goods if the combustion motif doesn't fit your style. See this page for a full list of prizes.
The December Gold Box is available now at your local bank, but supplies will run out on the 17th!