Haul in yer hoards of exotic fruits and scintillating gemstones for extra profit this weekend! A convergence of clerical errors and convenient coincidences presents traders, or opportunistic pirates, with the perfect weekend to make a tidy profit. Island markets are buying fruit at increased prices, gemstone thieves are less active, and merchant brigands are taking extended voyages with extra fruit! The eye-watering aroma of durian wafts across the seas.
Markets are paying anywhere from 33% to 50% more for fruit.
Gem thieves are less active, so large quantities of gems are more likely to make it through a voyage.
Merchant brigands are operating at an increased rate and shipping their goods to distant destinations. Their attraction to trading posts has increased.
Merchant brigands will also carry more fruit on average.
Compelled by an abundance of fruit, encounters with the mischievous Monkey Boat are more common.
On doubloon oceans, the doubloon fee for opening stalls has been slashed in half. Grab a labor badge with the doubloons you'll save!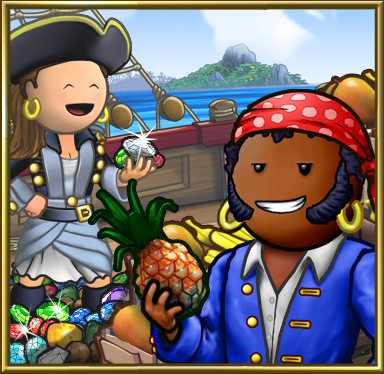 The Open Markets event will be active from August 9th at 11 AM PDT until August 12th at 10 AM PDT. Island markets will continue to buy fruit at increased prices from August 9th at 4 AM PDT until August 13th at 4 AM PDT. The markets are run by a dedicated and stubborn lot.
No holds are barred in this weekend event, so post some generous jobbing offers and stuff your hold with precious perishables. Pirates with rummaging-related allergies may elect to take the indirect approach, but they should be cautious of those plundering primates. If you have any feedback on this event, feel free to offer it up on our forums.
Good fortunes, mateys!