Bundle up, pirates, because Old Man Winter is here with a limited edition Blizzard Class Sloop that is sure to nip at your toes! Freeze yer enemies in their tracks with icy cannons as ye glide across the frozen seas with the grace and frenzy of a January blizzard.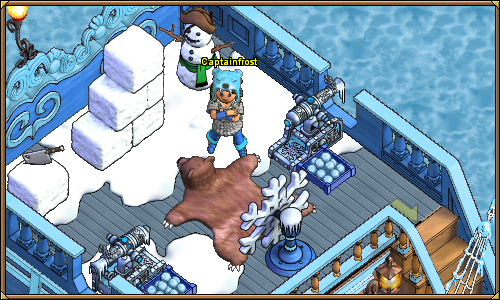 With a giant snowflake helm, which navigation method do ye prefer? Do ye float across the board with the finesse of a falling snowflake, or do ye smash yer way into rocks and through whirlpools with the fury of a blizzard? If ye get a chill while on the deck, cozy up with the bear rug. I'm sure the snowman would be happy to navigate.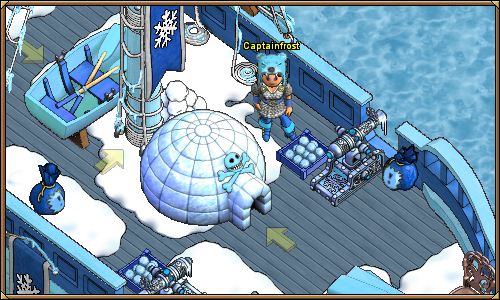 The yeti doll on the main deck looks right at home among the snow blocks, icy cannons and snowflake banners. If ye feel the nip in the air, grab a toasty mug to warm yer hands. Step through the igloo hatch to go below deck and find an indoor winter wonderland.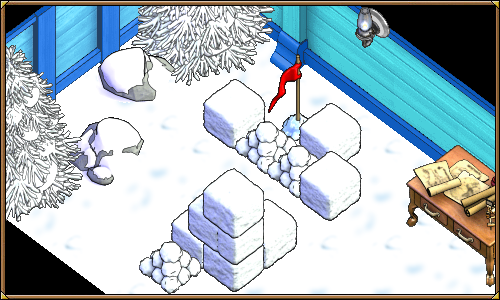 Grab yer hearties and defend yer flag! Yes, ye should be repairin' the hull or runnin' the bilge, but snowball fights are so much fun! The hold includes plenty of obstacles and hiding spots for ye to enjoy the glee found in pelting the other team with a good handful of ferocity! Unfortunately, ye can't really throw the snowballs in the hold. Trickster Jack Frost fused them together into a giant frozen lump, but they sure look inviting!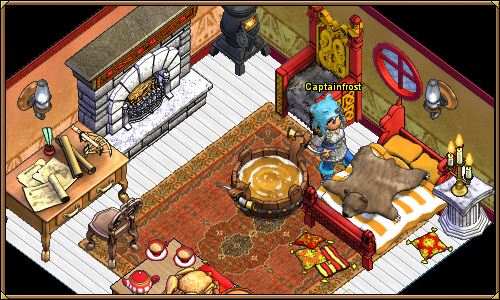 After the epic battle, thaw out in the cabin. Dip into the mead vat for warming refreshment as ye enjoy the comfort of the crackling fire and a comfy bear rug. Prepare for future snowy adventures with a feast!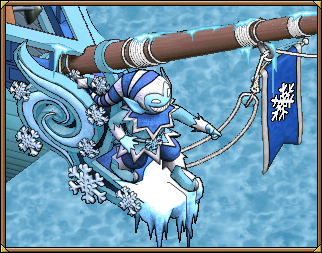 Let Jack Frost guide yer crew to enjoy the levity of this frosty season.
Hurry to yer local shipyard today because the Blizzard Class Sloop will melt away after February 12th!
Posted by Aphrodite in Announcements | Jan 03, 2014 | | permalink