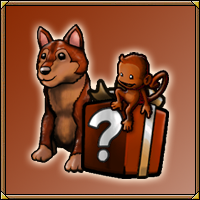 We're fairly certain that the title of this blog post violates several international treaties, but we're going to run with it anyway, because you're worth it!
From now until 3:00 PM PDT on September 17th, 2012, you'll earn a free Chocolate Mystery Box for every $9.95 you spend on doubloons or every month of subscription time you purchase! That's 3 Mystery Boxes for purchasing a quarterly subscription, 5 Mystery Boxes for purchasing a $49.95 package, or even more!
Featuring the seasonal color Chocolate, this month's Mystery Box has some cool new prizes inside, including new Chocolate trinkets you can hold in portraits, Chocolate Dogs, and even Chocolate Monkeys!
Catch yococoa fever* this Fall by tearing into a Chocolate Mystery Box right now! For a full list of available prizes and other more detailed info, the official rules can be found here.
Good luck, everyone!
* Symptoms of yococoa fever may include dry humor and frequent pillaging.
Posted by Hermes in Announcements | Sep 07, 2012 | | permalink