All pirates know that every winter, ships filled with troves o' toys from far away lands steal through the night. Their mission is to deliver the items needed to create special holiday treats for the hungry pirates of the oceans. What isn't as well known is how these toys are made.
Each year a seasonal swarm of sprites toil away to create toy designs and all the parts needed for the trove o' toys given out during the holidays. Most years this goes without a hitch. However this year, there was a hitch. 'Twas a strong nog...too strong...even for elves. Toy designs became...unique, and rummed-up Elves staggered 'round the islands droppin' parts afore noddin' off. Then Brigands - the blaggards! Stole them toy parts. If'n that wasn't bad enough, they took hats right off o' their wee sleepin' heads!
Take them parts back by battlin' Brigands 'n Barbarians and put 'em together into new toys to save the holidays! Who knows, maybe these, er, eccentric toys'll be the hit o' the season!
From now until January 3rd, battles with Brigands and Barbarians have a chance to award special toy part trinkets as prizes! Bring your 3 parts for any toy item to Festivity's House on all oceans 'n build one of the 3 new furniture items: Mr. Potato Sleds, Sock Skunkys, and Parsnip Patch Dolls! You can also acquire your very own "sleepy" Elf at the Trading Post.
Decorate your home and satisfy your taste for battle by giving a good wallopin' to these bands of miserable hat-stealing marauders!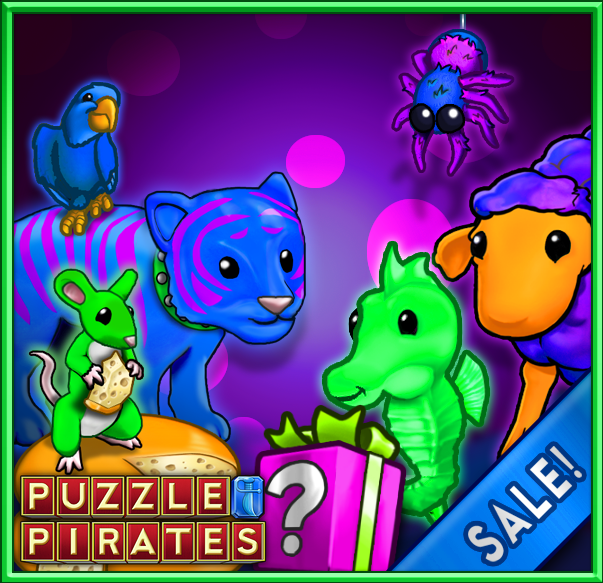 Our problems don't end there during this Booched holiday. While our backs we be turned, some elves assigned to' the holiday dye facilities pilfered a stash o' eggnog 'n went a wee wild, resultin' in color combinations that nature ne'er intended! Power Parrots, Psychedelic Spiders, Neon Ippolitos, Psychedelic Tigers, Radical Rodents, Wooly Wackos, 'n more have fallen victim to these color obsessed sprites.
From now until 3:00 PM PDT on January 3, 2022 you'll receive a free Booch Box for every $9.99 you spend on doubloons, or every month of subscription time you purchase!
For more information about the full contents of the Booch Box, as well as the official rules, please click here.