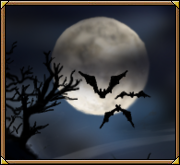 Don't look now: it's an Extra Special Halloween Surprise!
What's an Extra Special Halloween Surprise, you ask? Well, it's Extra because we released a bunch of fun Halloween stuff a week ago, and it's a Surprise because you probably didn't know about it until just now. Surprise!
So, what comes with an Extra Special Halloween Surprise? A whole lot of cool Halloween stuff, including a new pet, new masks, and a lot more! Let's take a look at what's new this week...
Black Small Dog!
It's a bit of a Halloween tradition here at Three Rings to release a new style of black pet every October. Two years ago, it was the patently ridiculous and ridiculously scary Black Elephant. Last year, it was the finest jungle cat in the world: the Black Jaguar. This year, we're pleased to bring you the Black Small Dog!
This shadowy pooch is the perfect companion for nighttime pirate escapades, or for just sitting around your hideout in your finest black threads. The Black Small Dog is now available from the Palace Shoppe, so adopt yours today!
Halloween Trinkets!
Have your pockets been lacking a caramel apple? Feeling a bit light on skeletal piranhas lately? Think your inventory could use a few octo-ghosts? Are you completely befuddled as to what I'm talking about at this point?
In any of those cases, you're in luck! New player-created Halloween trinkets have arrived, and there's something for everyone! Snag your favorites (and some gift wrap) at the Palace Shoppe right now!
Masks!
Surprise, we didn't forget about masks! In fact, we did the opposite of forget: we remembered them so much that we made two new types for you to enjoy this year. In addition to the regular line-up of favorites, we now have Peacock and Raven masks available!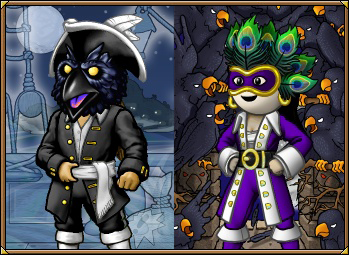 You can grab these right now from the Palace Shoppe. They look especially awesome on the new Halloween portrait backgrounds!
...wait, what?
New Halloween Portrait Backgrounds!
Oh, there we go.
We also have a huge pack of player-created backgrounds for you this week. I hope you're ready to have your pants scared off! Or, well... I guess Puzzle Pirates can't lose their pants. Well, then, I hope you're prepared to be inflicted with SIGNIFICANT amounts of FEAR!
The new backgrounds turning on today are...
Cambiata's Graveyard
Narci's Night Wings
Narci's Nightmare
Pishkirlin's Once Upon a Time in Transylvania

Jippy's Haunted Manor
Sinistergoat's Rise of the Old Man of Oyster

Kirppu's Werewolf Shack
Much like last week, all of this new stuff will be available until Tuesday, November 2nd at 3 PM PDT, so don't miss out!
Happy Halloween, everyone!
Posted by Hermes in Events | Oct 20, 2010 | | permalink