E'ery winter, ships filled with troves o' rare ingredients from far away lands steal through the night. Their mission is to deliver the ingredients needed to create special holiday treats for the hungry pirates of the oceans. That is, until now.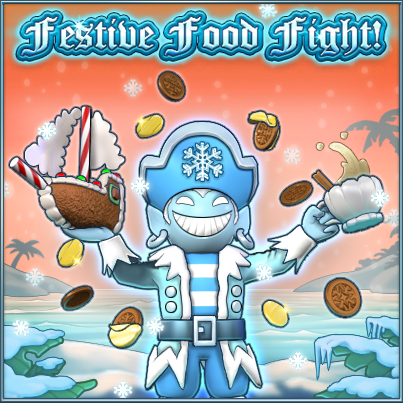 Forced off course and into icy seas by Hurricane Hera, our intrepid heroes were swarmed by Brigands and Barbarians 'n lost their treasured cargo. The half frozen crew realized pirates would no longer be able to cook up their holiday feast and wailed in despair. These piteous cries carried across the frigid seas reaching Jack Frost on his wintery journey around the oceans.
Determined to save the holidays, or at least shut up those whiny, hungry swabbies on his favorite island retreat, Jolly Jack Frost calls on you to help him bring those blaggards to heel! While good ol' Jack will try to take the credit fer savin' the day, he'll let those who help him keep some of the rescued ingredients 'n cook 'em up.
From now until January 4th, battles with Brigands and Barbarians have a chance to award special ingredient trinkets as prizes! Bring your 3 ingredients for any food item to the statue he erected in his honor 'n cook up one of the 3 new furniture items: Gingerbread Sloop, Rum Nog, and Chocolate Doubloons! Earn a trophy once ye've assembled a festive food item for the first time and a furniture item after assembling 3 of a particular festive food item. Decorate your home and satisfy yours taste for battle by giving a good wallopin' to these bands of miserable marauders!
Cook up a feast for yer crew and teach those roaming scallywags that it's a lot more polite to simply buy rum than raid another's cupboards! Join a voyage n' hunt down some festive ingredients today!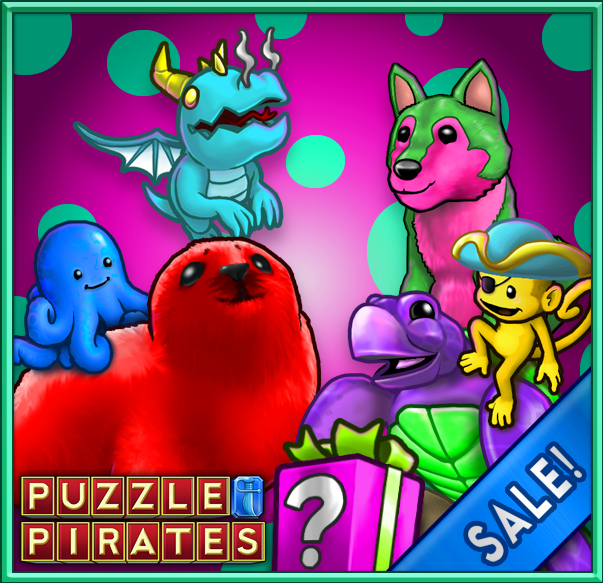 While our backs were turned dealing with the loss of our holiday ingredients, some mischievous molluscs pilfered our rum nog, ate one to many rum balls, 'n gained access to the dye facilities. Their hijinks resulted in color combinations that nature ne'er intended! Electric Blue Octopuses Mixed-up Monkey with Hats, Disordered Dragons, Cherry Red Seals, Tossed-up Turtles, Watermelon Mutts, 'n more have fallen victim to these color obsessed bandits.
From now until 3:00 PM PDT on January 4, 2021 you'll receive a free Booch Box for every $9.99 you spend on doubloons, or every month of subscription time you purchase!
For more information about the full contents of the Booch Box, as well as the official rules, please click here.