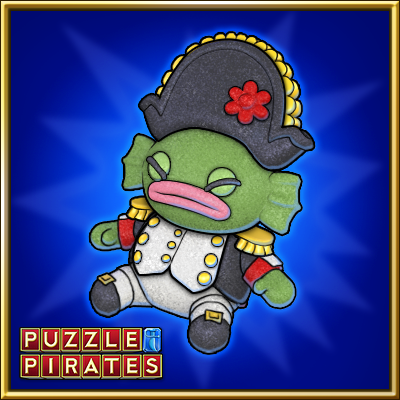 Even after all yer efforts last month, yer still not respected as much as ye'd like. Ye need to instill a little fear. Earn the July Seal o'Piracy by compleatin' 2 actions that increase yer pirate Conqueror Reputation.
Even as yer conquering the seas, ye can still be a posh pirate. If ye need help learnin' how to polish yer rough personality, ye should bring on a new mentor who can help ye earn some of the finer things in life. Own a subscription that runs through July, or make a purchase of $9.99 or more this month to receive a Admiral Finius Plushie. Sacre bleu! Remember, yer in the presence of royalty!
After all this work, do ye have the golden touch? Are yer coffers overflowing with plunder? Find out this month on the Midas Class Sloop and sail the seas in opulent style. This sloop is the most luxurious way to pillage with your six closest hearties.