For years, pirates have been the apex predator of the seas, pillaging and plundering as they see fit without fear of reprisal - but that's all about to change! Extraterrestrial life forms have invaded the Oceans and now the hunters have become the hunted. What they want is a mystery but their force is undeniable!
Introducing Alien Attack! a brand new pillaging expedition!
EXPERIENCE:
OUT OF THIS WORLD THRILLS! - Escape the clutches of your abductors and fight your way back to your ship
OUT OF THIS WORLD CHILLS! - Run a gauntlet of Alien Scout, Hunter and Abductor ships and strange "Blue Fire" fences
OUT OF THIS WORLD BOOTY! - Can you escape not only with your lives but with a hold full of Alien Pods containing never before seen treasures?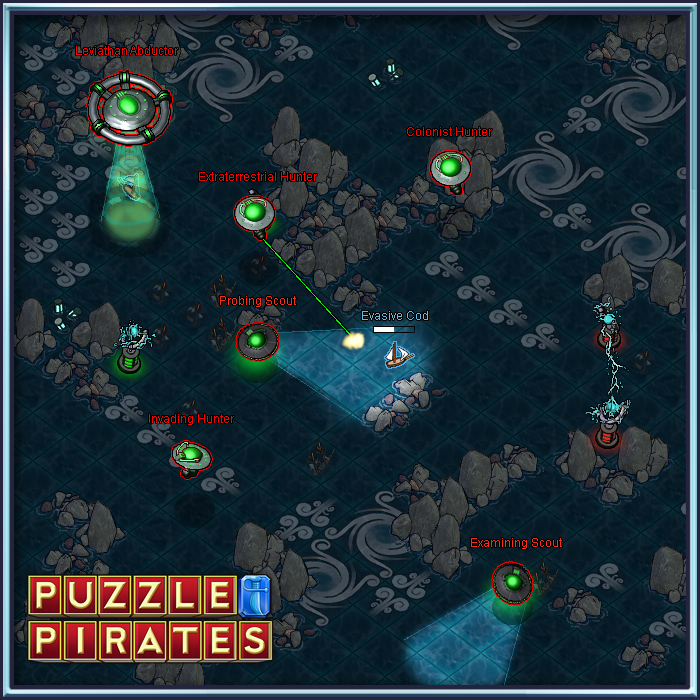 Be alert! The seas are no longer safe! Abductions can happen at any moment and without warning. Once abducted your crew must fight its way through the alien hordes to reach your ship. That would be difficult enough, but that's not the end of it. The invading aliens do not take escape lightly and will stop at nothing to recapture you. Weave your way through searching Scout ships whose spotlights will pinpoint your location for the waiting Hunter ships - their strange cannons of light can tear through even the most reinforced hulls like a hot knife through butter. Strange barriers of blue fire will temporarily block your path so timing is of the utmost important. Worst of all is the massive Abductor ship - those that are recaptured have never been heard from again.
Enterprising Captains have been able to turn misfortune into great fortune, however. Scattered around the Alien Mothership are strange glowing pods filled with interstellar trinkets and treasures from countless alien worlds. Attempting to snatch them up is a great risk with the invading aliens hot on your heels - but the rewards are worth it!
The Alien Attack expedition is available starting today, April 1, 2015!