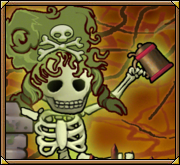 Welcome to a very special Halloween edition of Portrait Day! With the big day only a couple of weeks away, we're celebrating by making more than just backgrounds available today. Get your treat bag ready, because we've got a lot of sweet stuff in store!
Autumn Arrives!
Autumn has finally made its triumphant return to our shores. Take a tour around your ocean to catch some very colorful foliage, and don't forget to pick up a scarecrow from your local Furnisher!
Black Pets!
They're back! If you missed them last year, and have had rotten luck with your Black Box pulls, now's your chance to snag a cuddly and deeply ominous pet of your very own. Black Cats, Black Dogs, Black Elephants and Black Jaguars are now available from the Palace Shoppe, so take a look!
Skelly Ship Gear!
A new tradition for Puzzle Pirates is the re-introduction of skelly-themed ship upgrades. We're pretty certain you can find a ship whose appearance would benefit greatly from some skeletal cannons, or a skeletal helm, or a skelly cap'n or mermaid figurehead! And if not, let us blatantly suggest the Phantom Class Sloop! That would be seriously spooky.
You can find the skelly ship upgrades at your local Furnisher.
Halloween Backgrounds!
Last but not least, it just wouldn't be Portrait Day without a whole slew of returning portrait backgrounds for your posing pleasure!
Jack-'o-Lantern
Ye Dread Dead
Phillite's Ghost Ship
Ickessler's Skellies
Bootlegpatch's Night of the Living Pumpkins
Molasses's Night of a Thousand Parrots
These backgrounds run the gamut from solo to expansive, from creepy to cute, so head over to your nearest portrait easel and see which suits your fancy!
Phew! To give you mates plenty of time to enjoy this year's Halloween offerings, we're going to juggle around the standard Portrait Day schedule a bit, so all of this stuff will be available for purchase until Tuesday, November 2nd at 3 PM PDT.
Have fun, and Happy Halloween!
Posted by Hermes in Events | Oct 12, 2010 | | permalink