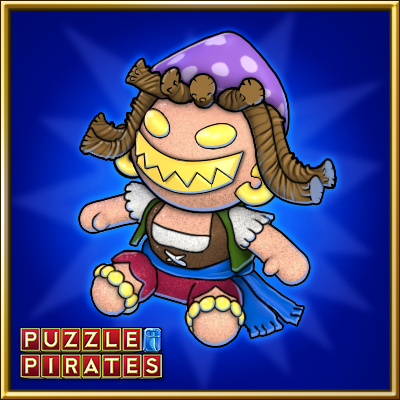 Own a subscription that runs through March, or make a purchase of $9.99 or more this month to receive a Gretchen Goldfang Plushie to help protect yer fleet and take a bite out of yer enemies. Be aware that her loyalty can be bought. If yer foe presents her with a chunk of frozen hellfire, a hair from Azarbad's beard, and the Widow Queen's eyepatch, she'll happily release yer fleet.
Feelin' lucky? Why not test yer skills in a few tournaments? Earn the March Seal o'Piracy by participatin' in 4 tournaments!
While yer waiting fer a tournament to begin, why not shop at yer local shipyard? The oceans' shipwrights have managed to learn enough about the militant Imperials' vessels now to be able to replicate their War Frigs to exact specifications! The Imperial Class War Frigate can be ordered from your local shipyard, but act quickly; it won't be around fer long.